Karma Strikes NFL Again! This Trump-Mocking "Dog" Just Suffered An Injury, Started To Cry
As they say, karma can be a bitch.
And speaking of "bitch," it was a rough day for an NFL showboat, wide receiver Odell Beckham Jr., who made headlines two weeks ago by "celebrating" a touchdown (in a game which his New York Giants lost to the Philadelphia Eagles) by impersonating a urinating dog … an action which he subsequently explained later by referencing President Trump!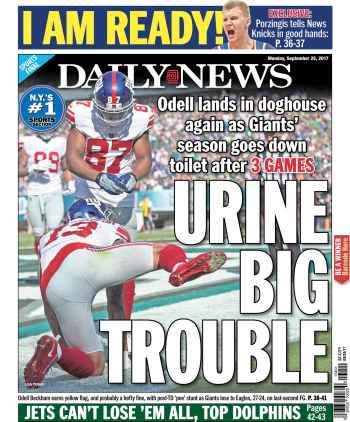 Also, in that game, it should be noted, Beckham "celebrated" another touchdown with a racist black power salute:
Two days later, Beckham explained (although somewhat cryptically) that one or the other of his "celebrations" was directed toward President Trump.
If u seen that , I have to tip my hat to u for thinkin outside the box. #URRIGHTONPOINT impressed

— Odell Beckham Jr (@OBJ_3) September 25, 2017
Which brings us to karma, i.e. today as Beckham's Giants lost to the previously winless Los Angeles Chargers to fall to 0-5 for the season.
During the fourth quarter, Beckham fractured his left ankle when his leg was caught under Chargers cornerback Casey Hayward as an unsuccessful attempt to catch a ball.
Full analysis coming on https://t.co/dFDT8os6QG but @Giants will lose more than the game. Much worse left ankle injury this time for #OBJ pic.twitter.com/UjtuUj7okT

— David J. Chao, MD (@ProFootballDoc) October 8, 2017
Beckham was seen crying after his injury. (He has not tweeted whether his tears were also a subtle reference to President Trump.)